Serviços Personalizados
Artigo
Links relacionados
Compartilhar
---
versão impressa ISSN 0104-5695
RPG, Rev. pós-grad. vol.19 no.3 São Paulo Jul./Set. 2012
ORIGINAL ARTICLE
The effect of milk ingestion after an orange juice in the superficial microhardness of human enamel: An in vitro study
O efeito da ingestão do leite após um suco de laranja na microdureza superficial do esmalte humano: Um estudo in vitro
TATIANE ALEXANDRE DE OLIVEIRAI; TAIS SCARAMUCCIII; SHEILA REGINA MAIA BRAGAII; MARIA ANGELA PITA SOBRALIII
I MS student of Restorative Dentistry, School of Dentistry, Universidade de São Paulo (FOUSP) – São Paulo/SP, Brazil
II PhD student at Department of Restorative Dentistry, School of Dentistry, Universidade de São Paulo (FOUSP) – São Paulo/SP, Brazil
III Assistant Professor at Department of Restorative Dentistry, School of Dentistry, Universidade de São Paulo (FOUSP) – São Paulo/SP, Brazil
---
ABSTRACT
Patients' diet and habits are important factors that can determine the occurrence of dental erosion. The objective of this study was to evaluate the ability of milk to reduce the erosion caused by orange juice in enamel. Specimens of human teeth were embedded in acrylic resin, polished and submitted to the initial microhardness measurement (SMH) using a Knoop indenter with 25 g load for 10 seconds. The specimens with similar values of SMH were randomly divided into 4 experimental groups (n = 10) according to the following treatments: C (Control): 30 minutes of immersion in artificial saliva; OJ: 1 minute of immersion in orange juice, followed by 30 minutes in artificial saliva; M: 1 minute of immersion in cow's milk followed by 30 minutes in artificial saliva; OJ + M: 1 minute of immersion in orange juice followed by 1 minute in milk and 30 minutes of artificial saliva. These treatments were repeated for four times. The final SMH was determined and means of SMH values were calculated. Data were analyzed using ANOVA and Tukey's Test (p < 0.05). The immersion of the specimens in milk after orange juice was able to reduce the surface softening caused by this acidic drink. It was concluded that milk after an erosive challenge may be an alternative to reduce enamel surface softening.
Descriptors: Dental enamel. Hardness. Tooth demineralization. Tooth erosion. Tooth remineralization.
---
RESUMO
A dieta e os hábitos dos pacientes são fatores importantes que podem determinar a ocorrência de erosão dental. O objetivo deste estudo foi avaliar a capacidade do leite em reduzir a erosão causada pelo suco de laranja no esmalte. Espécimes de dentes humanos foram inseridos em resina acrílica, polidos e as microdurezas iniciais (MDS) foram mensuradas, utilizando-se um penetrador Knoop com carga de 25 g por 10 segundos. Os espécimes com valores similares de SMH foram divididos aleatoriamente em 4 grupos experimentais (n = 10), de acordo com os seguintes tratamentos: C (controle): 30 minutos de imersão em saliva artificial; OJ: 1 minuto de imersão em suco de laranja, seguido por 30 minutos em saliva artificial; M: 1 minuto de imersão em leite de vaca, seguido por 30 minutos em saliva artificial; OJ + M: 1 minuto de imersão em suco de laranja, seguido de 1 minuto no leite e 30 minutos de saliva artificial. Esses tratamentos foram repetidos por quatro vezes. As MDS finais foram determinadas e as médias dos valores de MDS calculadas. Os dados foram analisados por ANOVA e teste de Tukey (p <0,05). A imersão dos espécimes de esmalte no leite foi capaz de reduzir o amolecimento da superfície causado pela bebida ácida. Concluiu-se que o leite após um desafio erosivo pode ser uma alternativa para reduzir o amolecimento superficial do esmalte.
Descritores: Esmalte dentário. Dureza. Desmineralização do dente. Erosão dentária. Remineralização dentária.
---
Introduction
Dental erosion is defined as an irreversible loss of dental hard tissues caused by acids, in a process that does not include bacteria11. According to Lussi12, the etiology and pathogenesis of dental erosion involve chemical, biological and behavioral factors. Chemical factors are some properties of the acid source that make it erosive to the teeth. Biological factors are related to saliva and its characteristics, such as the acquired dental pellicle, tooth structure and surrounding soft tissues10. The behavioral factors act to modify the extent of the erosive wear and are related to individual habits, such as healthier lifestyles that may involve frequent consumption of acidic fruit and drink16,29.
The consumption of acid food and drink has increased over the last few decades and many studies have related this fact to the increasing prevalence of dental erosion17,19. Many fruit and their respective juices have organic acids, such as citric, maleic and tartaric acid, which can cause different degrees of erosion. Citric acid is present in one of the most consumed juices in the world — orange juice25. In addition to citric acid, orange juice also has citrate, a substance capable of chelating the calcium from the saliva and the teeth15 and therefore, it is considered a drink with high erosive potential27,28.
The prevention and treatment of dental erosion include guidance, advising patients to avoid the consumption of acid food and drink14. Nevertheless, results depend on patient's cooperation; thus, efforts are being made in order to minimize the erosive potential of some popular acid drinks24. The most common method described in literature is by adding chemical substances, usually containing calcium or phosphate3,9,10,26, to acidic drinks, which decrease the driving force for dissolution by the common ion effect4. However, despite the fact that some additives have promoted a positive effect on reducing the erosive potential of an acid solution, most of them cause important side effects on the taste and stability of the drink6.
Some food and drinks, such as milk and its derivatives, are naturally rich in calcium, phosphate and other components that may play an important preventive role in the erosion process. According to Grenby et al.7, milk has some proteins, such as casein, which has a recognized cariostatic and anticariogenic effect. Regarding dental erosion, Barbour et al.4 added casein to a citric acid solution in a range of pH values similar to those typical for soft drinks and found a reduction of 50‒60% in hydroxyapatite demineralization. Corroborating these observations, Aidi et al.1 investigated the association between a broad collection of biological and behavioral factors and the incidence and progression of dental erosion among adolescents. They found that erosive lesions were less likely to progress in subjects who consumed milk and yoghurt products.
From the exposed above, it was hypothesized that drinking milk after the ingestion of orange juice could reduce the loss of tooth tissues, acting as an important and positive behavioral factor of erosion. Thus, the objective of this study was to evaluate the ability of milk to reduce the enamel erosion caused by orange juice.
Method and Materials
This study was approved by the Research Ethics Committee of the School of Dentistry of Universidade de São Paulo (Protocol # 184/2008).
Specimens Preparation
Thirteen recently extracted and caries free human molars were used in this study. They were cleaned with a scalpel to remove any debris, submitted to prophylaxis with pumice and Robinson's brush and stored in 0.1% thymol solution at 4°C until required. One week before the beginning of the experimental procedures, teeth were stored in artificial saliva at 4°C (CaCl2*2H2O, KH2PO4, KCl, NaCl, Tris buffer and H2O). After this week, 52 enamel slabs were obtained using an IsoMet Low Speed Saw (Labcut 1010, Extec) with a diamond disk (Excel Technologies Inc). The slabs were embedded in acrylic resin, ground flat and polished using watercooled abrasive discs (400 – and 600 – and 1200-grit Al2O3 papers; Buehler, Lake Bluff, IL, USA) and felt paper with diamond spray (1 μm; Buehler). On the polished surface, a testing area of 3 x 3 mm was delimited with enamel varnish. This area was divided into two: the left side was designated to the initial surface microhardness (SMH) measurements, and the right side to the final.
The initial SMH was determined by performing three indentations using a Knoop diamond indenter, with 25 g load for 10 seconds (HMV-2000; Shimadzu Corp.,Tokyo, Japan). The indentations had at least 100 μm distance between them18.
The specimens SMH average was calculated and one-way ANOVA test was carried out for comparisons amongst groups and ensured that there was no statistical difference between initial SMH of the specimens. Forty specimens were randomly allocated into four experimental groups (n = 10).
Experimental groups and procedures
Control (C) Group: individual immersion of the specimens in 30 mL of artificial saliva (0.213 g/L of CaCl2.H2O; 0.738 g/L of KH2PO4; 1.114 g/L of KCl; 0.381 g/L of NaCl; 12 g/L of Tris buffer and 2.2 g/L of porcine gastric mucin; pH = 7,0)20 for 1 minute, at room temperature;
Orange Juice (OJ) Group: individual immersion of the specimens in 30 mL of orange juice, pH = 3.86 (Sucos Del Valle do Brasil Ltda), for 1 minute, at room temperature;
Milk (M) Group: individual immersion of the specimens in 30 mL of cow's milk, pH = 7.02 (Parmalat Brasil S.A. Indústria de Alimentos), for 1 minute, at room temperature;
Orange Juice and Milk (OJ + M) Group: individual immersion of the specimens in 30 mL of orange juice (1 minute) followed by immersion in 30 mL of cow's milk (1 minute), at room temperature;
After treatments, the specimens were stored in artificial saliva for 30 minutes. This cycle was repeated for four times in accordance to results obtained in the pilot tests.
In the end of the cycles, the final SMH measurement was performed.
The pH of each solution was assessed in pH meter (Quimis Aparelhos Científicos Ltda, Diadema, SP, Brasil), evaluating 20 mL of each solution under gentle agitation with magnetic stirrer.
In addition, three samples from each group were randomly selected to be prepared for scanning electron micrograph (SEM) analysis. The samples were air dried, fixed in aluminium stubs and sputter — coated with gold — palladium for 120 seconds. The surface morphology of enamel was then examined by Scanning Electron Microscope (XL30, Philips Eletronics, Eidhoven, The Netherlands). Representative areas were photographed in each group.
Statistical analysis
From the SMH data, the final SMH was calculated and the results were submitted to statistical analysis using the software Minitab® 15.13. The assumptions of equality of variances and normal distribution of errors were checked and ANOVA and Tukey tests were carried out for statistical comparisons amongst groups. Statistical significance was set at p < 0.05.
Results
Graphic 1 shows the means (SD) of final SMH measurements of 4 experimental groups. There was a significant increase in the SMH after milk immersion (p ≤ 0.05) in comparison with all the other groups. Immersion in milk followed by orange juice promoted significantly less SMH changes than immersion in orange juice only. SMH changes for this group (OJ + M) were also not significantly different from the group held in saliva. The orange juice group presented the greatest SMH changes.
Analyses of Scanning Electron Micrograph (Figure 1) showed that the OJ Group presented a much rougher and irregular surface in comparison with all the other groups. The M Group seems to be covered for a thin film. The surface of the OJ + M Group showed irregularities, but they were less rough than those presented by the orange juice group.
Discussion
The hypothesis of this study, that milk can reduce the erosion caused by an acid drink, was confirmed. The SMH changes for the specimens immersed in milk after orange juice were significantly lower than those found for the group immersed in orange juice only, which means that milk was able to reduce the surface softening caused by orange juice.
While there is no doubt that a high consumption of acid food and drink can cause dental erosion, it is also clear that the clinical manifestation is modified by behavioral and biological factors8,13,29. This fact might be the key to understand why some individuals, whose diet includes high consumption of acid drinks; show few or absent clinical signs of erosion, while others with similar acid intake present erosive lesions. The possibility that diet variations could minimize the erosive effects of acid drinks must be considered, and for this matter, milk and its derivates could play a very important role in the development of non carious lesions.
The methodology used in this study is in accordance with the current recommendation: that to assess enamel softening the duration of an erosive challenge did not last more than a few minutes that simulate clinical conditions. To assess the enamel softening the most useful method is to measure microhardness21.
Milk is a complex colloidal mixture of proteins, fat, lactose, minerals and other constituents7. Despite the fact that milk is an excellent protein food that provides essential amino acids and organic nitrogen for humans and animals of all ages2, milk and dairy products also have been identified as having important protective effects against dental caries5,7,25 and erosion23. Recently, a study showed that adolescents who consumed milk and yogurt products were less likely to progress erosive wear and the mean consumption of milk and yogurt products was significantly smaller in the group who had erosion progression process than in the non-progression group1. The findings of our study help to explain the results found by Aidi et al.1 clinically.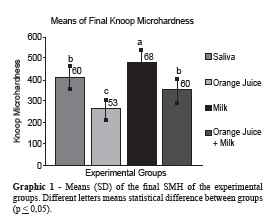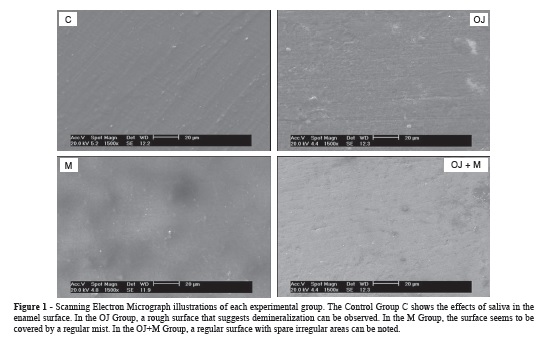 This protective effect is not only related to the large amount of calcium and phosphates in its composition, but also because it has some phosphoproteins, such as casein. The role of casein in demineralization was hypothesized by Barbour et al.4. According to these authors, casein can bind to the hydroxyapatite surface and stay there as a thin layer, which acts as a dissolution barrier, restricting the H+ access to the crystal surface and preventing diffusion of ions away from hydroxyapatite. Another alternative theory also proposed by these authors says that casein molecules may bind to sites of high energy on the crystal surface, preventing ion detachment from these sites.
This study highlights the importance of the presence of milk and its derivates in the daily diet. They will not only counteract the harmful effects of a high cariogenic or erosive diet, but also avoid other general health problems, such as those associated to calcium deficiency12. In view of this fact, clinicians should encourage their patients, especially those suffering from dental erosion, to include dairy milk or its derivative products in their diet.
It is worth noting that the present study was conducted in enamel specimens and in terms of future directions, further investigations must be performed to verify whether milk exerts the same protective effect on dentin.
Conclusion
The ingestion of milk after orange juice may be an alternative to reduce enamel loss by erosion.
Acknowledgments
The authors wish to thank CNPq for the scholarship.
Bibliographic references
1. Aidi HE, Bronkhorst EM, Huysmans MCDNJM, Truin GJ. Multifactorial analysis of factors associated with the incidence and progression of erosive tooth wear. Caries Res 2011;45(3):303-12. [ Links ]
2. Aimutes W. Bioactive properties of milk proteins with particular focus on anticariogenesis. J Nutr 2004;134(4):989-95. [ Links ]
3. Barbour ME, Shellis RP, Parker DM, Allen GC, Addy M. An investigation of some food-approved polymers as agents to inhibit hydroxyapatite dissolution. Eur J Oral Sci 2005;113(6):457-61. [ Links ]
4. Barbour ME, Shellis RP, Parker DM, Allen GC, Addy M. Inhibition of hydroxyapatite dissolution by whole casein: the effects of pH, protein concentration, calcium, and ionic strength. Eur J Oral Sci 2008;116(5):473-8. [ Links ]
5. Cai F, Manton DJ, Shen P, Walker GD, Cross KJ, Yuan Y, et al. Effect of addition of citric acid and casein phosphopeptide-amorphous calcium phosphate to a sugarfree chewing gum on enamel remineralization in situ. Caries Res 2007;41(5):377-83. [ Links ]
6. Grenby TH. Lessening dental erosive potential by product modification. Eur J Oral Sci 1996;104(2(Pt 2)):221-8. [ Links ]
7. Grenby TH, Andrews AT, Mistry M, Williams RJ. Dental caries – protective agents in milk and milk products: Investigations in vitro. J Dent 2001;29(2):83-92.
8. Hara AT, Lussi A, Zero DT. Biological factors. Monogr Oral Sci 2006;20:88-99. [ Links ]
9. Hughes JA, Jandt KD, Baker N, Parker D, Newcombe RG, Eisenburger M, et al. Further modification to soft drinks to minimise erosion. A study in situ. Caries Res 2002;36(1):70-4. [ Links ]
10. Hunter ML, Hughes JA, Parker DM, West NX, Newcombe RG, Addy M. Development of low erosive carbonated fruit drinks. 1. Evaluation of two experimental orange drinks in vitro and in situ. J Dent 2003;31(4):253-60. [ Links ]
11. Imfeld T. Dental erosion. Definition, classification and links. Eur J Oral Sci 1996;104(2(Pt 2)):151-5. [ Links ]
12. Lussi A. Erosive Tooth Wear — A multifactorial condition of growing concern and increasing knowledge. Monogr Oral Sci 2006;20:1-8.
13. Lussi A, Jaeggi T. Erosion — diagnosis and risk factors. Clin Oral Invest 2008;12(Suppl 1):5-13.
14. Lussi A, Jaeggi T, Zero D. The role of diet in the aetiology of dental erosion. Caries Res 2004;38(Suppl 1):34-44. [ Links ]
15. Meurman JH, Vesterinen M. Wine, alcohol, and oral health, with special emphasis on dental erosion. Quintessence Int 2000;31(10):729-33. [ Links ]
16. Meurman JH, Rytomaa I, Kari K, Laakso T, Murtomaa H. Salivary pH and glucose after consuming various beverages, including sugar-containing drinks. Caries Res 1987;21:353-9. [ Links ]
17. Millward A, Shaw L, Harrington E, Smith AJ. Continuous monitoring of salivary flow rate and pH at the surface of dentition following consumption of acidic beverages. Caries Res 1997;31(1):44-9. [ Links ]
18. Moretto MJ, Magalhães AC, Sassaki KT, Delbem AC, Martinhon CC. Effect of different fluoride concentrations of experimental dentifrices on enamel erosion and abrasion. Caries Res 2010;44(2):135-40. [ Links ]
19. Nunn JH, Gordon PH, Morris AJ, Pine CM, Walker A. Dental erosion – changing prevalence? A review of British national childrens' surveys. Int J Paediatr Dent 2003;13(2):98-105.
20. Scaramucci T, Hara AT, Zero DT, Ferreira SS, Aoki IV, Sobral MAP. In vitro evaluation of the erosive potencial of orange juice modified by food additives in enamel and dentine. J Dent 2011;39(12):841-848. [ Links ]
21. Shellis RP, Ganss C, Ren Y, Zero DT, Lussi A. Inhibition of Dental Erosion by Casein and Casein-derived Proteins. Caries Res. 2011;45(1):13-20. [ Links ]
22. Shen P, Cai F, Nowicki A, Vincent J, Reynolds EC. Remineralization of enamel subsurface lesions by sugar-free chewing gum containing casein phosphopeptide-amorphous calcium phosphate. J Dent Res 2001;80(12):2066-70. [ Links ]
23. Syed J, Chadwick RG. A laboratory investigation of consumer addition of UHT milk to lessen the erosive potential of fizzy drinks. Br Dent J 2009;206(3):E6. [ Links ]
24. Tahmassebi JF, Duggal MS, Malik-Kotru G, Curzon ME. Soft drinks and dental health: A review of the current literature. J Dent 2006;34(1):2-11. [ Links ]
25. West NX, Hughes JA, Addy M. The effect of pH on the erosion of dentine and enamel by dietary acids in vitro. J Oral Rehabil 2001;28(9):860-4. [ Links ]
26. West NX, Hughes JA, Parker DM, Moohan M, Addy M. Development of a low erosive carbonated fruit drinks. 2. Evaluation of an experimental carbonated blackcurrant drink compared to a conventional carbonated drink. J Dent 2003;31(5):361-5. [ Links ]
27. West NX, Hughes JA, Parker DM, Newcombe RG, Addy M. Development and evaluation of a low erosive blackcurrant drink. 2. Comparison with a conventional blackcurrant juice drink and orange juice. J Dent 1999;27(5):341-4. [ Links ]
28. West NX, Maxwell A, Hughes JA, Parker DM, Newcombe RG, Addy M. A method to measure clinical erosion: the effect of orange juice consumption on erosion of enamel. J Dent 1998;26(4):329-35. [ Links ]
29. Zero DT, Lussi A. Behavioral Factors. Monogr Oral Sci 2006;20:100-5. [ Links ]

Endereço para correspondência:
Maria Angela Pita Sobral
Departamento de Dentística, Faculdade de Odontologia da Universidade de São Paulo
Avenida Professor Lineu Prestes, 2227 – Cidade Universitária – Butantã
Zip Code 05508-000 – São Paulo/SP, Brazil
e-mail: mapsobra@usp.br
Received in: 2/14/12
Accepted in: 5/29/12